Regular price
Sale price
$80.00 USD
Unit price
per
Sale
Sold out
Share
Introducing the Presence Spinner Ring by Jaclyn Nicole - a beautifully crafted fidget spinning ring designed to promote mindfulness and provide anxiety relief. Made from high-quality sterling silver, this exquisite anxiety jewelry piece is not only a stylish accessory but also an effective tool for staying present in the moment and improving your mental and emotional well-being.
Our unique spinner rings feature a textured shank that symbolizes the ever-changing nature of life with its ups and downs. The two thin inner rings represent time and spin freely, reminding you that dwelling on the past or worrying about the future is simply spinning time in your head.
The Jaclyn Nicole Presence Spinner Ring is a versatile accessory that complements any outfit and serves as a thoughtful gift for those who struggle with anxiety or want to practice mindful living. With an approximately 1/4" wide band, this ring is perfect for everyday wear.
How to Use the Presence Spinner Ring:
Whenever you find yourself lost in thought, obsessing about past or future events, spin the rings to bring your focus back to the present moment.
As you spin the rings, take a moment to observe your surroundings using your senses - notice what you see, hear, or smell.
Continue to spin the rings while narrating your observations until you feel better and unhook from the heaviness of negative thoughts.
Make a commitment to yourself to use the spinner ring as a tool for practicing presence and breaking the cycle of negative thinking.
Embrace the power of living in the present moment with the Jaclyn Nicole Presence Spinner Ring. Free yourself from the chains of anxiety and experience the peace and joy that comes from mindful living.
Product Specifications:
Material: Sterling Silver
Band width: Approximately 1/4"
Features: Textured shank and two thin inner rings that spin
Sizes: Available in multiple sizes to ensure the perfect fit
Order your Jaclyn Nicole Presence Spinner Ring today and begin your journey towards a more mindful and anxiety-free life.
Please indicate your ring size in notes or email if ordering through Instagram or Facebook as the size options only show on our website.  
** Please note full 14K Gold Spinner Rings are available by order. Please reach out through the contact form with your size and metal request for a quote. Also note, 14K Gold rings ordered in sizes 10 through 14 will require an additional charge to be clarified at time of purchase based on market rates. Please inquire before making your purchase for accurate pricing as our system doesn't allow us to specify this automatically.
Care Instructions

To deter tarnish, scratches or damage:

Store in a sealed plastic zipper bag when not in use
Avoid contact with lotions or perfumes
Keep away from moisture
Remove during exercise, sleeping & bathing
Metals will naturally tarnish. Tarnish can be removed with a polishing cloth until returned to a mirror finish
Peak or Flitz Polish is highly recommended for faster and more effective polishing
Shipping & Returns

Please see our shipping and return policies
View full details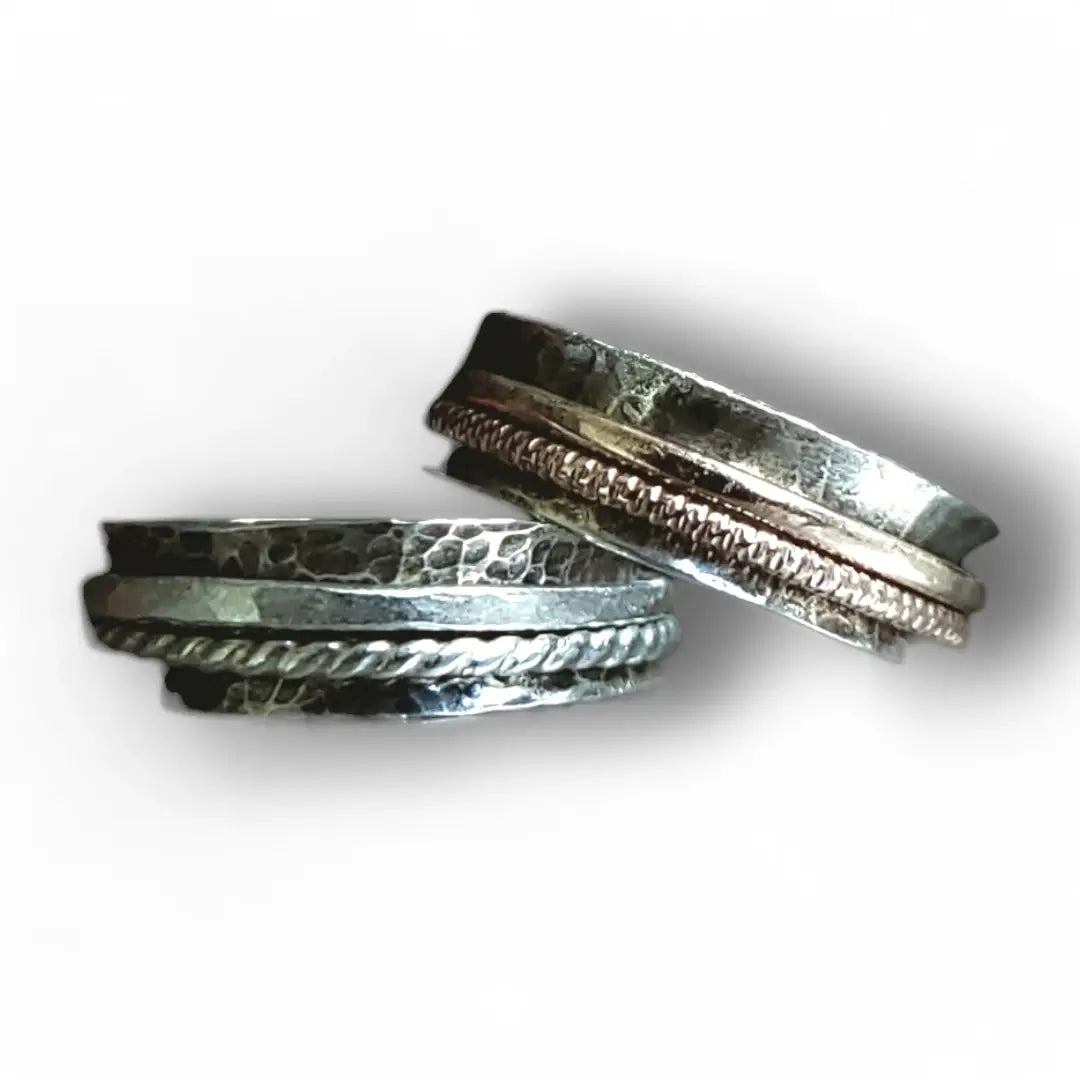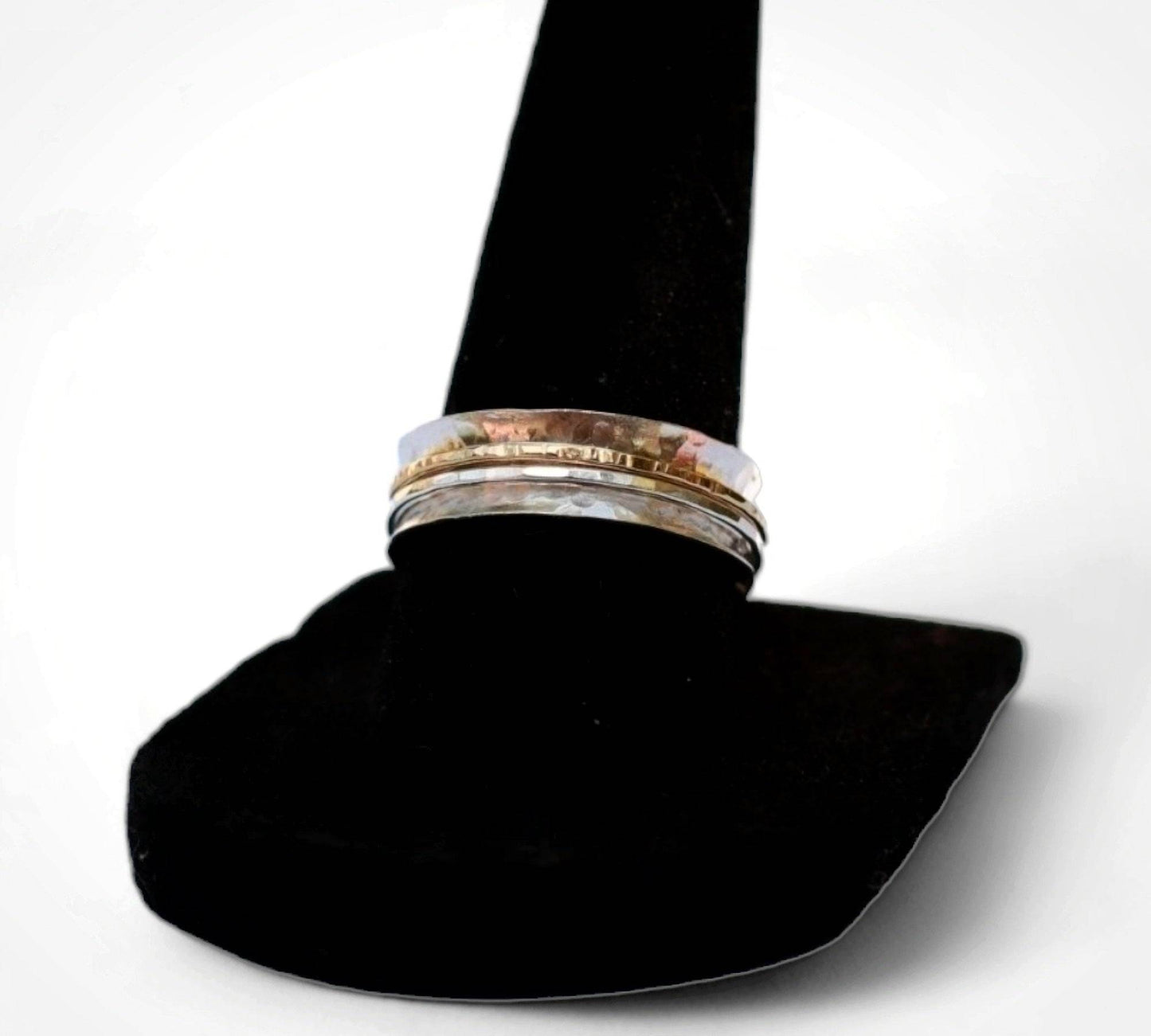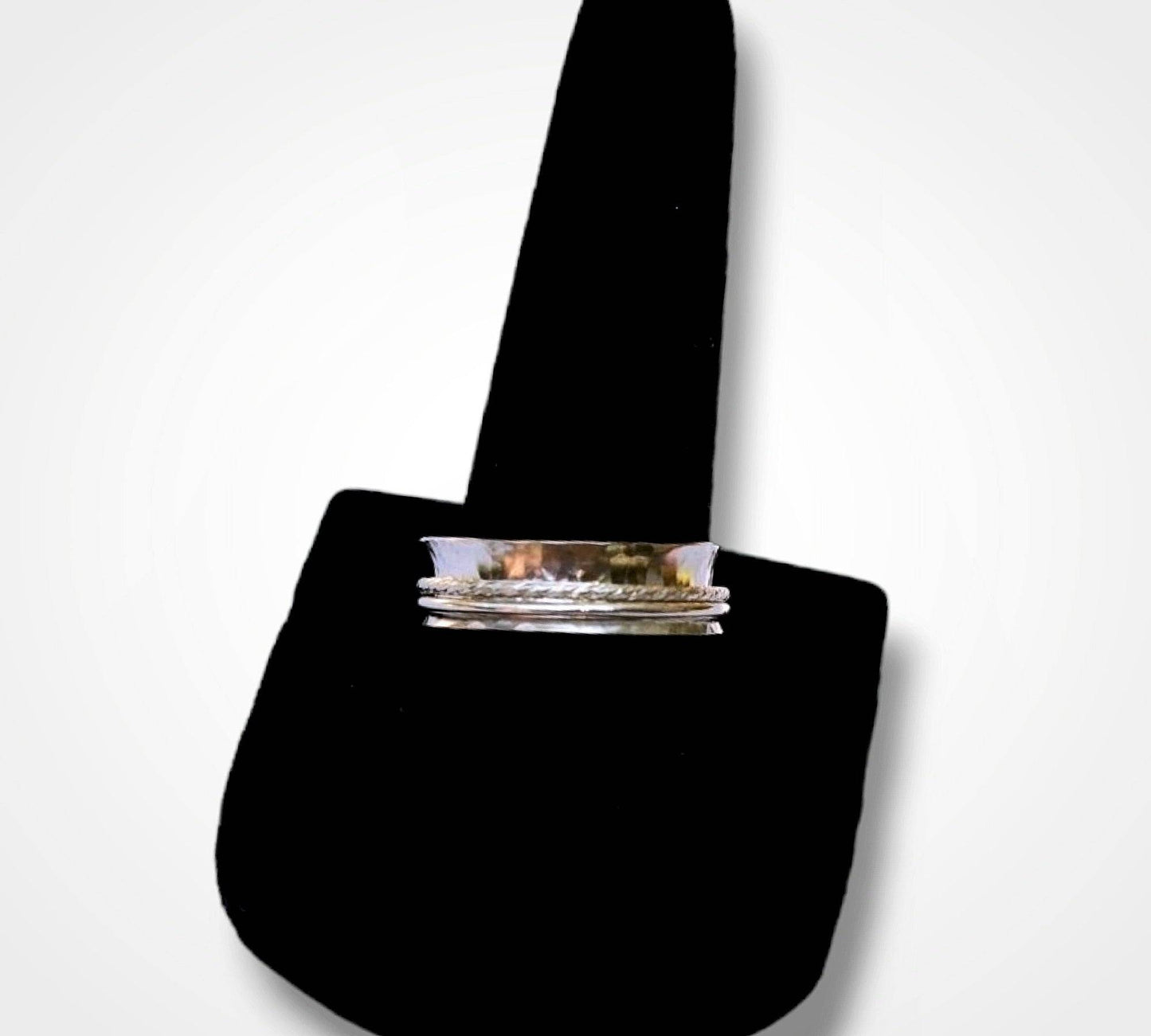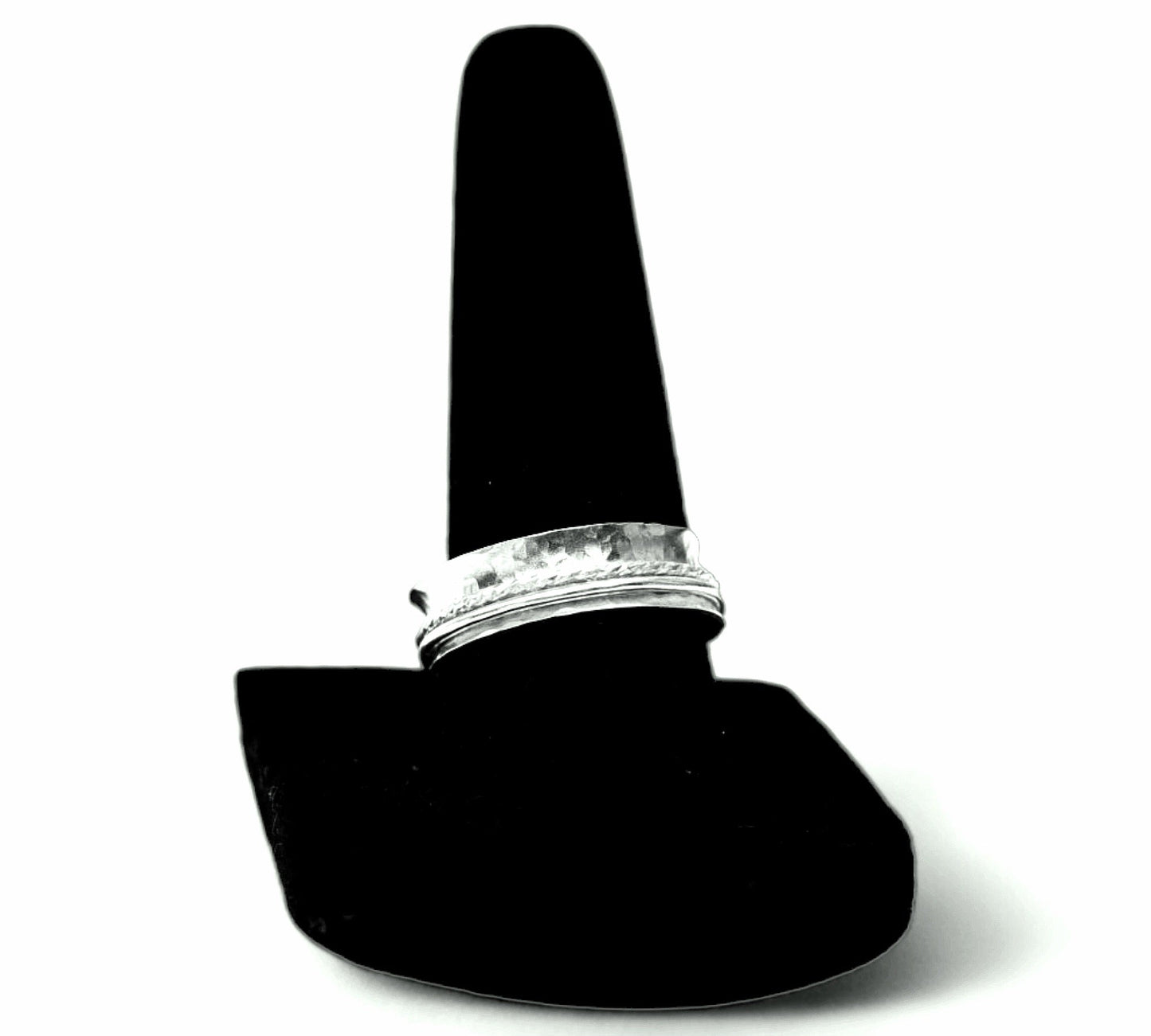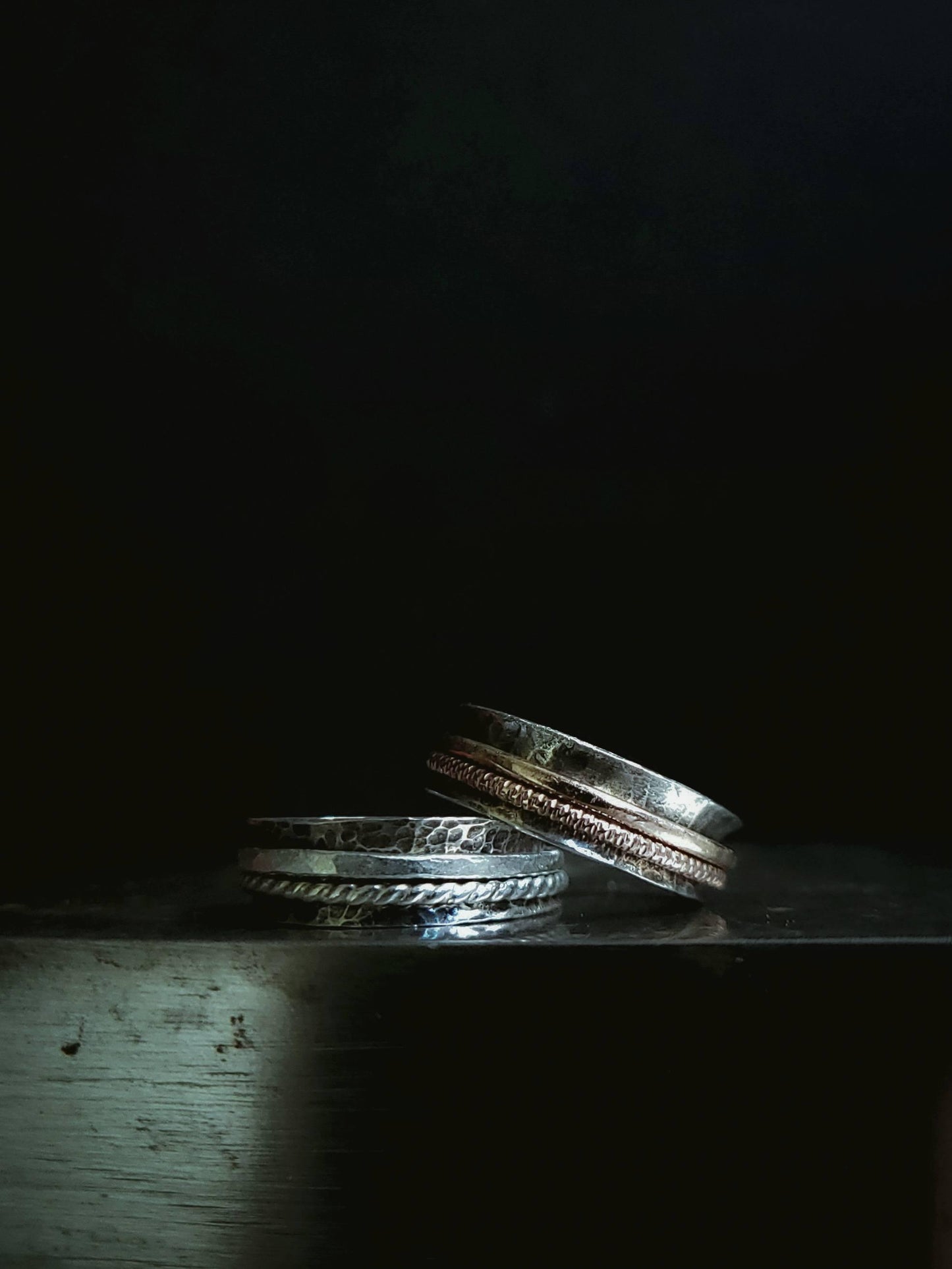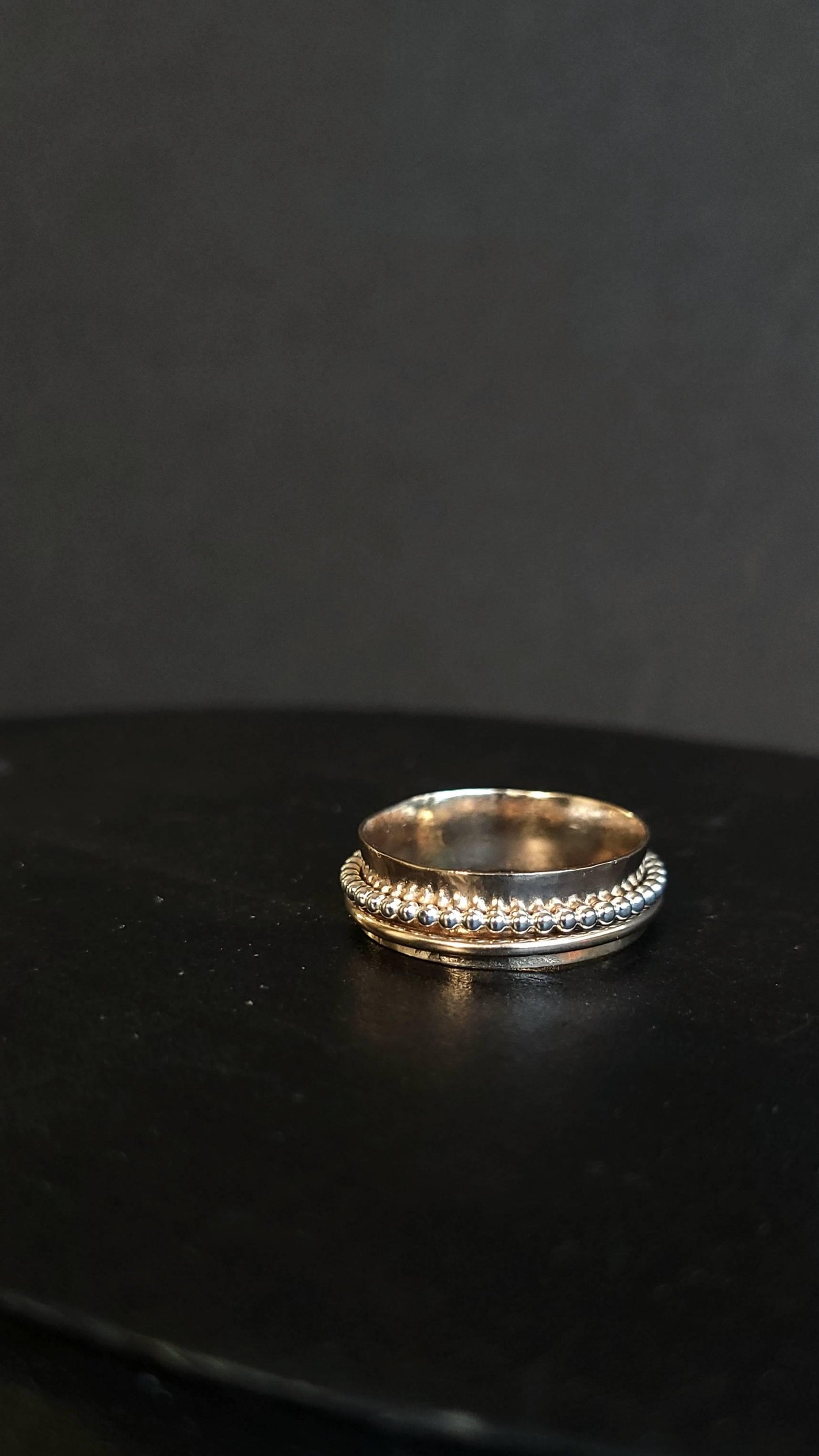 Beautiful Wedding Rings
We found Jaclyn at a craft fair and loved her style, intentionality, utility and beauty of her jewelry. We had her make spinner rings for us out of 14k white gold as our wedding rings. She was meticulous and we will wear and love them forever!
Spinner ring love
I absolutely love this ring. It definitely helps ground me and return my thoughts to the present instead of dwelling on the past or things that are out of my control. Oh and it is beautiful as well!
great for sensory relief
dealing with sensory issues is hard, but this ring makes me feel better in tough moments
Beautifully Mindful Artistry
I absolutely love my spinner ring and working with Jaclyn!
I was looking for a ring that was both elegant and everyday but had meaning and I found in this handcrafted work of art.
Jaclyn worked with me to get it exactly as I wanted it and just knowing that she did that just for me makes it that much more special and beautiful.
I cannot wait to purchase my next piece!